Banh Xeo (Savory Crepes)

MAY 2020

COOK TIME 24 hours for batter to rest, 1 hour to prep the fillings, about 5 minutes to cook each crepe
BACKGROUND Bánh Xèo is a traditional Vietnamese dish, translating to 'sizzling pancake' for the sound it makes with the batter hits the pan, it starts bubbling from the addition of beer in the batter. It's a crispy, turmeric crepe usually stuffed with pork, shrimp, mung beans, bean sprouts, and sometimes scallions. It's my absolute favorite dish, full of memories of when my Mom used to make growing it — the smells of turmeric and coconut milk used to fill the home. It's messy and fun to eat; seemingly complicated but the recipe makes many portions for you to test and customize its insides.
NOTES This a family style recipe so it makes A LOT of crepes, halving it is ok. Get creative with your filling - make it vegetarian with kale or mushrooms in addition to the mung beans and beansprouts.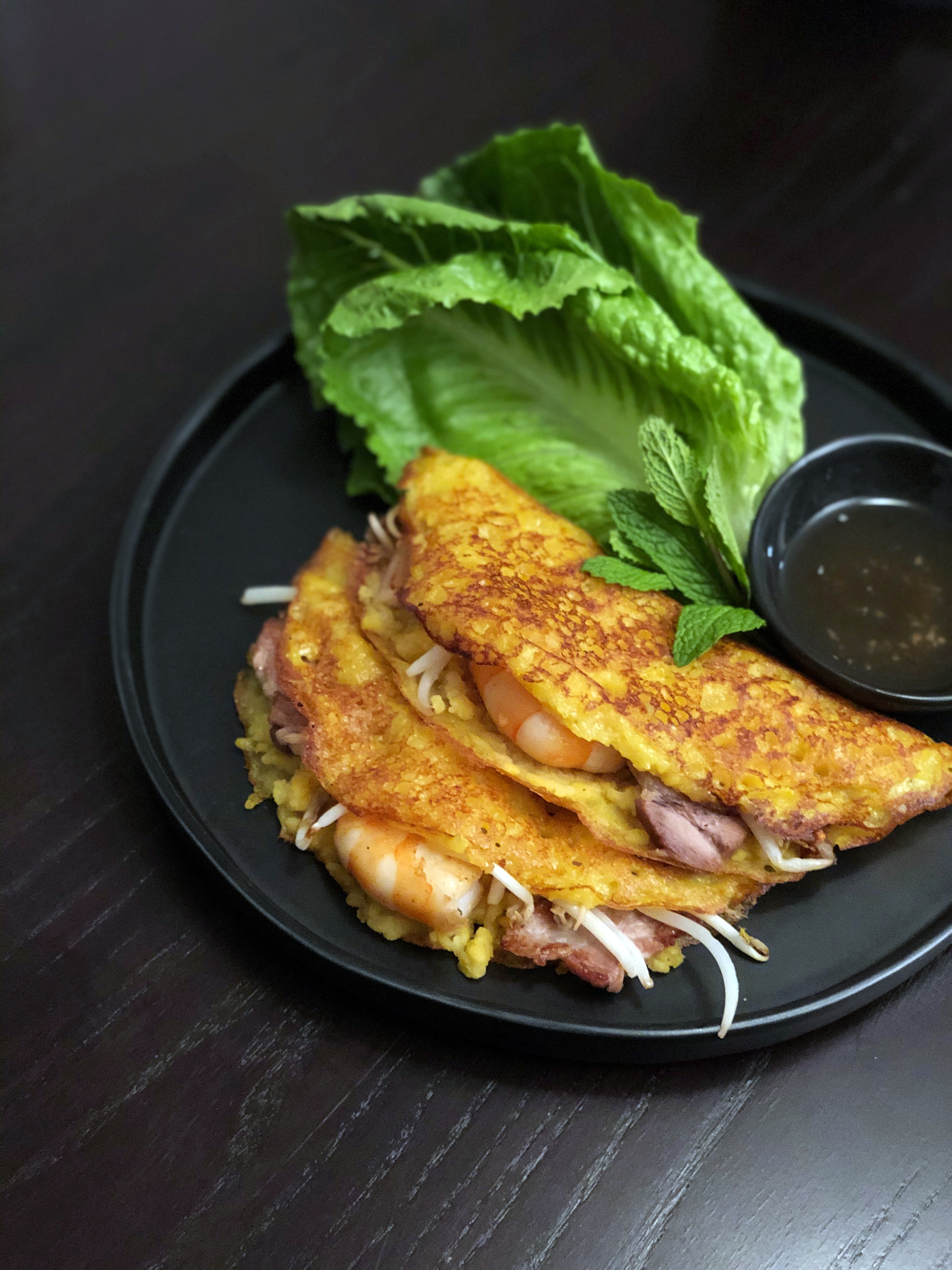 INGREDIENTS

BATTER:
2 cups white rice flour
1/2 cup tapioca starch
1.5 cups beer - dark, IPAs work, nothing hazy 🤙🏼
1 14oz can coconut milk
2 cups water
2 tsp turmeric
1 tsp salt

FILLINGS:
1 lb pork belly
1.5 lb shrimp
bean sprouts - replace for sliced onion, if you can't find
dried mung beans (optional, about 1 cup)

ACCOMPANIMENTS:
lettuce
mint
Nuoc Cham (Vietnamese fish dipping sauce)

NUOC CHAM:
2 tbsp sugar or honey
1/2 cup tablespoons warm water
2-3 tbsp fish sauce (to taste)
3 tbsp lime juice (2-3 limes)
1 clove garlic, minced
Optional: Bird's eye/Thai chili, thinly sliced, to taste


DIRECTIONS

DAY BEFORE:
1. Mix together the dry ingredients in the batter: rice flour, tapioca starch, turmeric, salt.
2. Add in water, beer, and coconut milk, whisking in each one at a time.
3. Let sit in your fridge overnight.
4. Make Nuoc Cham sauce: Dissolve sugar or honey into warm water. Add in fish sauce, lime juice, garlic, and chili. (optional). Chill in fridge and flavors combine.
5. Soak the dried mung beans.

DAY OF:
1. Boil pork belly in a pot of boiling water, about 30 minutes. (Optional: add salt, pepper, and wedges of 1/2 of a yellow onion to the water.) Take out pork belly, rinse under water, and set aside to rest.
2. Once pork belly has cooled, slice thinly. It might still be pink, that's ok!
3. Meanwhile, toss shrimp in salt. Sauté shrimp with a little oil until pink on both sides. Try not to sear the shrimp, just cook through about 80%, flipping halfway in between.
4. If using, drain the mung beans from night before. In a small pot, add in mung beans and just enough water to cover. Simmer until soft.
5. Rinse and dry bean sprouts.
6. Once all your fillings are done, heat up your pan on HIGH. Let it get really hot. Do NOT use any oil.
7. Add in 4 pieces of pork belly and 3 pieces of shrimp to the pan, trying to keep it to one side.
8. With a ladle, pour your batter in a thin layer, rotating the pan so it's evenly spread out to the edges of the pan.
9. Turn heat down to MEDIUM-LOW, and place a lid on your frying pan. Let sit for 4 minutes to cook batter through.
10. Take off the lid and baste the edges of the batter with a neutral oil (canola or vegetable works). This is an IMPORTANT step and will be easier to get it fold over.
11. Place the lid back on for 1-2 minutes. It should be easy to flip after this point. If not, let it cook a little bit longer.
12. Fold the Banh Xeo over using a silicone spatula from empty side onto the side with fillings, like an omelette. Carefully take it off the pan onto a wire rack so it stays crispy while you make the rest.
13. Enjoy with lettuce, mint, and Nuoc. Eat it with the sauce poured directly over or rip pieces into lettuce wraps with mint and dip into the sauce.