Ulta x R29 Somos
2020
OBJECTIVE
Highlight Ulta Beauty's dedication to the Latinx audience by driving a more emotional dialogue with her.
CONCEPT
There's been a wave of Latinx influence on the American beauty market in the last decade. Latinx women make up the largest demographic of beauty consumers in the U.S., wearing products as symbolism that bears significance far beyond a classic trend, and representing some of the biggest innovators and creatives in the industry. These factors connect them as a community, but they're still so different.
In partnership with Ulta Beauty, Refinery29 will further foster representation and inclusion for the Latinx community by launching
Somos Latinx
, a dedicated channel that takes R29's Latinx content programming to new heights.
WORK
We'll launch a mix of editorial sponsorship and custom photo features in its dedicated content hub on R29.com, a bespoke video series that explores Latinx beauty subcultures, a dedicated Instagram page, and an experiential activation during Latinx Heritage Month.
ROLE
Creative Direction
PRESS
Glossy
,
Gartner
Note: this page is still being updated.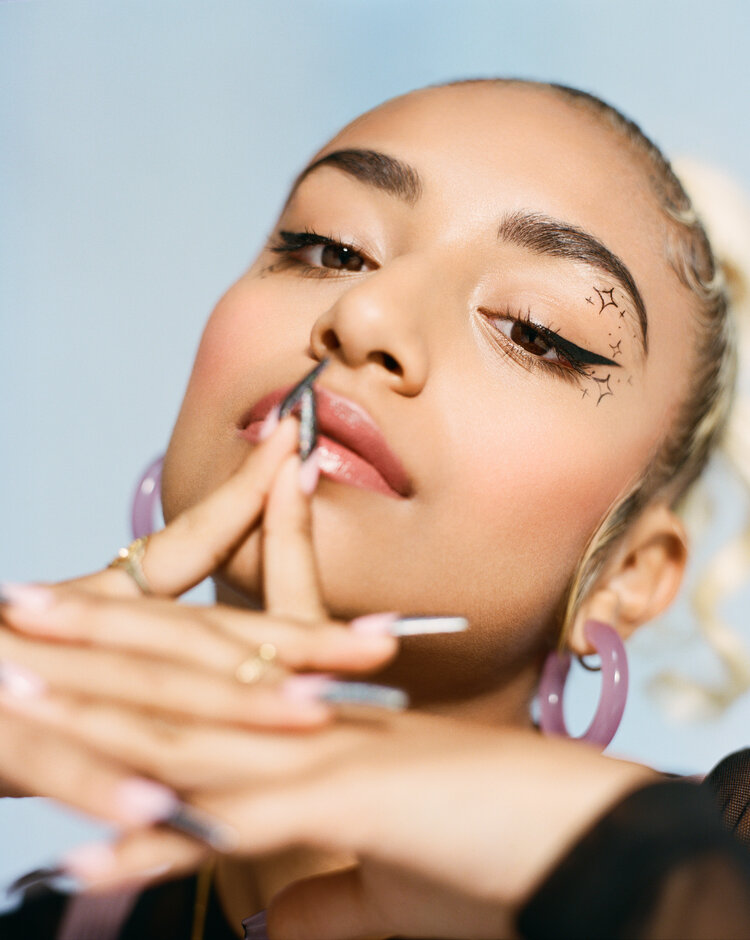 PROGRAM BRANDING Brand identity for R29 Somos (both editorial and Ulta's sponsored content) to live across the whole R29 ecosystem (onsite, social, experiential, video)
1. Logo
2. Color Palette — The color palette includes bright and saturated colors along with neutral colors for balance and contrast. These colors are associated with and feel celebratory to Latinx culture.
3. Iconography — Family of designed icons that will be used with borders.
4. Design Treatment — Visual content will include designed frames to feel cohesive, and distinctly Latinx.

---
---
BEAUTY OUT THERE VIDEO SERIES
Inspired by Refinery29's viral video series, Style Out There, Beauty Out There uncovers beauty subcultures through the lens of Latinx talent - from chicana heritage and culture to alter egos.
---


PHOTO FEATURE #1 — Latinx Beauty is Not Monolithic
THE INSIGHT Latinx is often represented as looking a certain way, following traditional perspectives. It is largely due to the fact that media has long lacked representation of the full range of all Latinx women.
THE WORK Shine a light on the intersection of beauty and identity among Latinx women that break this traditional portrayal. Mini profiles will spotlight three diverse Latinx women who are challenging and dispelling traditional Latinx beauty standards. They will draw from their own experiences and their own journeys, and this will help inform the narrative in how their relationship with beauty has changed.



---
PHOTO FEATURE #2
—
These Afro-Latinx Women Are Unapologetically Embracing Their Natural Hair
THE INSIGHT
Growing up, so many women of color were told that only glossy, straight strands were considered acceptable, and their curls and coils were not — whether it was through visual cues broadcasted by mainstream media, hurtful comments from their peers, or an insistence from their family to get their hair chemically relaxed. Throw multiracial and multicultural diversity into the mix, and this already strained relationship with hair becomes that much more complicated. It's a shared experience that's felt by most Afro-Latinx women. And now, at a time when it's more important than ever for BIPOC women to celebrate their heritage and make their voices heard
THE WORK
Three Afro-Latinx women walk us through their transformative hair journeys, pinpointing the hurdles, the safe spaces in which they have felt they could experiment with their curls, the women who've guided them, and the moment they each learned to love and embrace their hair.
---
ILLUSTRATED PROFILES
—
Elevating, educating, and inspiring a new generation of changemakers committed to Latinx visibility.
Header illustrations by Niege Borges
MORE TO COME
Illustration Art Direction + Design: Vero Romero
Photo Editor: Isabella Alesci